Hear What Clients Have To Say
About The Abrahams Law Experience
Why Choose Abrahams Law?
When you choose my firm, Abrahams Law, for your car accident or dog bite claim, you have my devoted attention and dedication every step of the way. I have been winning cases for my clients since 1992; getting my clients the settlements and justice they deserve.
To me, you are more than just a client. I will personally handle the entire process throughout every stage of your claim. I will fight for what you deserve and take care of all the legalese so you can focus on healing and getting back to your pre-accident life.
Comfort and peace of mind are important when it comes to this traumatic time in your life. I understand this may be a difficult time for you and your family. You may be scared, in pain, and wondering how you will financially recover from your accident. That's why you need an attorney who will personally fight for you in any situation. Place your trust in me and my firm, so you can focus on your recovery and getting back to your life as it should be.
You May Be Entitled To Recover Damages For:

Past, Current & Future Medical Bills

Cost of Rehabilitation & Therapy


Lost Wages & Future Income

Pain, Suffering & Emotional Distress

Our firm is prepared to help you get the financial compensation you need and the justice you deserve. Call (248) 538-2900 now to take the first step in your case.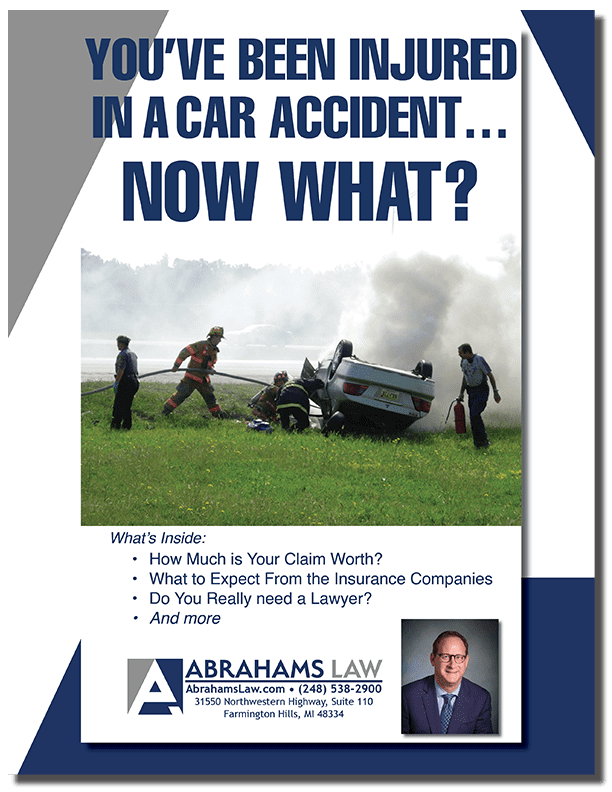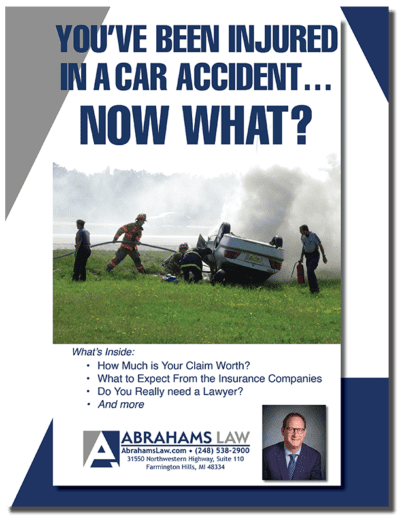 FREE DOWNLOAD
You've Been Injured in a Car Accident… Now What?
You have questions, and I am here to provide answers for you. Download my free report now to get answers to the most common questions about being in a vehicle accident.
My Promise To You
When you hire Jon Abrahams, you get Jon Abrahams, not an associate, a paralegal, or another lawyer. You get me.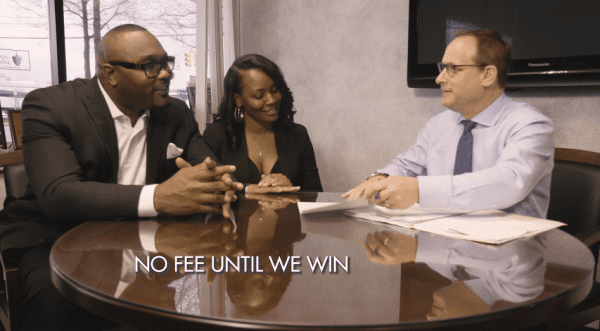 I am personally available to meet with you for all your questions and concerns.

I will handle all matters with your insurance company, the driver at fault's insurance company, and the rest of the red tape so you can focus on you, and getting better.

I will ALWAYS return your phone calls and emails promptly.

I will listen to your story.


I will dedicate myself to what matters- you and your case.


I will provide frequent case updates, and


I will fight to get you the money you deserve.

Hear What Clients Have To Say
About The Abrahams Law Experience
Let's Talk
This is the best way for you to get to know me to determine whether I am a good fit to handle your case. There are many good lawyers, and I always tell prospective clients they need to hire the attorney with whom they feel most comfortable. They should never feel intimidated or afraid to call and "bother" their lawyer. Of course, they should choose a lawyer who they can trust based on experience and proven results. But it should also be a lawyer who promises to communicate, take or return a phone call, an email, or a text. As the client may navigate a long and often scary path toward recovery from a severe injury, there must be a bond with their lawyer; mutual respect and friendship.
During our first meeting, we will discuss your injuries and make sure you are receiving the proper medical treatment from the best possible doctors. We will also go over your no-fault insurance, and if a claim for medical coverage has not been made by the time we meet, we can start that claims process for you. We go over the types of benefits no-fault insurance is responsible for and what is required to start receiving money as soon as possible for claims such as wage loss and household assistance. I will answer all of your questions.
I look forward to speaking with you!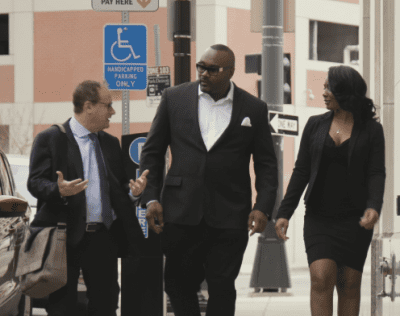 The initial meeting is FREE, and of course, no pressure. You need to be comfortable with the lawyer you choose!
FREE Accident Checklist
No one wants to be involved in a vehicle accident, but if you are you need to know what to do and what not to do. That's why I created this important checklist as a step- by-step guide so you can protect yourself if you are involved in an accident.
Answer:
This answer varies based on different situations, but you can expect your lawyer to file a claim against the driver at fault in your auto accident and perhaps the owner of the vehicle, as well, if it is a different person. Each claim must be investigated independently so anyone who may have some fault in your accident is held accountable for your injuries.
Answer:
Being "liable" is similar to being "responsible." Drivers on Michigan roads have a duty to drive safely, following traffic laws and acting/driving as a reasonable person would. When someone violates that duty, and injures someone, they should be held "liable" or "responsible" for compensating the injured victim for his or her injuries!
Answer:
Being "negligent" or acting with "negligence" is failing to act as a reasonable or normally careful person would act. Violating basic speed and traffic laws is often considered to be acting negligently.
Answer:
Every case is different and to give a ballpark value could actually be counterproductive. Every case must be carefully assessed: there are many working parts in a personal injury matter and we would be happy to determine how those working parts can increase or diminish the potential value of your claim. Things like negligence, liability, injury severity, property damage, and more can all be relevant factors when determining the potential value.